With the seal of quality fair.digital.
---
The hallmark makes fair offers and their advantages visible to the user in a quick and easy-to-understand way.
The seal of quality with three principles for digital products & services
---
Our products and services support fair.digital in particular through hosting in Germany, compliance with the EU-GDPR and a fair and cooperative partnership. Three central principles apply here
Data protection
fair.digital-certified products and services consistently implement the European General Data Protection Regulation (EU GDPR).
Transparency
The terms of use are easy to understand and can be viewed publicly. Settings and contact options are transparent.
Fairness
The sovereignty of users over their personal data is respected. As little data as possible is collected from users (data frugality) and is not passed on without consent.
SmartMaps was developed by the owner-operated medium-sized company YellowMap AG for companies in Europe. It offers outstanding maps features supported by a huge community, the OpenStreetMap community. A direct contact person quickly takes care of your questions. With a transparent business model and comprehensive usage options, you get future-proofing and flexibility. Thanks to our flexible pricing model, you can start with our platform for free and try SmartMaps for yourself.
Your data belongs only to you!
If we host data from you, we prevent unauthorized access to your data - not even via backdoors for intelligence agencies. Only you decide who accesses it. The data of your customers and users are also protected and do not leave the protected space of the EU-GDPR. SmartMaps is hosted in Germany on our own systems. Certified data centers of TelemaxX are used for hosting. TelemaxX is owned by the municipal utilities of central and southern Baden. Sophisticated backup strategies and redundant mirrored systems ensure future-proof security and scalability.
Data is not passed on unless you request us to do so. We adhere to the strict requirements of the EU-GDPR so that you can work with SmartMaps without worries.
We collect only the most necessary data.
We only collect information relevant for cooperation and system security. This means that you can be sure that no tracking, storage, evaluation or forwarding of data from you or your customers takes place.
An anonymized and cumulative collection of usage for the improvement of the services can only take place after explicit consent by you and can be easily and understandably revoked at any time.
Fascinatingly simple. Simply fascinating.
SmartMaps inspires in any environment via flexible and easy-to-use interfaces. SmartMaps adapts automatically because it is 100% responsive and optimizes the resolution for the respective end device. If the user has activated the dark mode in their operating system, this is automatically detected and SmartMaps switches to the eye-friendly darkmode style. This means that you and your customers always have the best resolution with optimal health support - all by itself.
Data security comes first!
---
Personal geodata also fall under the protection of the GDPR. Static as well as dynamic IP addresses are also considered personal data and must be protected. With SmartMaps, IP addresses are only stored for the delivery of information to the user. Beyond the user's period of use, the IP address is handled in a data protection compliant manner and is not stored unless there is a security issue. SmartMaps has been awarded the "Software Hosted in Germany" seal. The Bundesverband IT-Mittelstand e.V. (BITMi) awards this certificate to products whose data and software are hosted in Germany and comply with German data protection law. Together with our data protection officer, we act in accordance with the requirements of the EU-GDPR, as our data centers are certified according to DIN ISO 27001.
Guarantee your customers sovereignty over their personal data and rely on our privacy-compliant card solution - for your digital sovereignty and a fair, digital world.
Persönlicher Kontakt ist unsere Herzensangelegenheit
---
Wir begegnen unseren Kunden auf Augenhöhe. Für uns ist der persönliche Kontakt eine Herzensangelegenheit. Unsere SmartMaps-Experten schaffen mit einer bedürfnisorientierten und branchenspezifischen Beratung einen Mehrwert für Sie und Ihre Kunden und sind im Supportfall persönlich für Sie da. Vertrauen Sie unseren Geo- Spezialisten und auf unsere langjährige Erfahrung von über 20 Jahren.
Maps-Plattformen im Vergleich
Grundlagen und Entscheidungshilfe
---
Finden Sie jetzt die passende Kartenplattform für Ihr Projekt und erfahren sie mehr von unseren Experten.
Learn more about our terms and conditions
---
Do you have questions about fair.digital or our processing of your data? I will be happy to help you.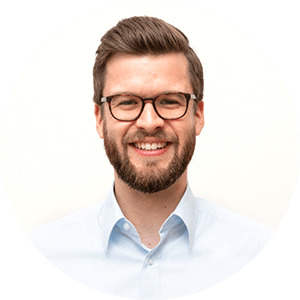 Christian Nickel
Member of the Executive Board
Yellowmap GeoSolutions
Tel.: +49 721 9638-895